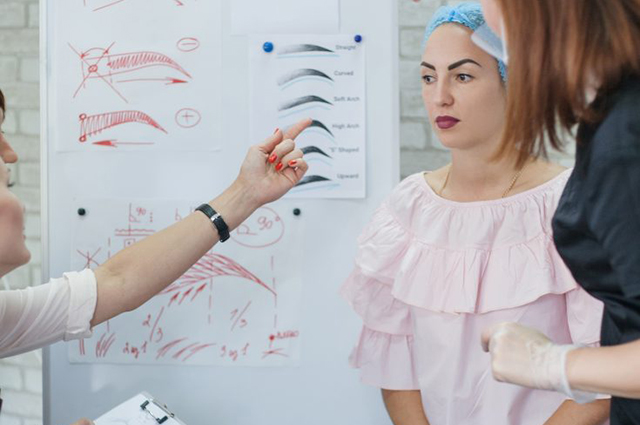 Comments are off for this post.
To become the best permanent makeup artists, you must train with the best Trainers.
Permanent makeup is a form of cosmetic tattooing that involves implanting pigment into the skin. Unlike traditional tattoos, permanent makeup is specifically designed to resemble conventional makeup, such as eyeliner, eyebrow pencil, and lipstick. This micropigmentation process is also well known in the medical field for scar concealment of all types as well as areola tattooing for breast cancer patients.
If you desire to work in this field, it is imperative to train with the best schools that have the most in depth permanent makeup classes and the most experienced trainers.
While permanent makeup can be a great way to achieve a flawless look, it's important you know that your clients will be looking for a certified professional with the knowledge and training necessary to give them the results they are expecting.
When choosing a permanent makeup technician, clients assess the skills, education, techniques, and reviews of their artist. A qualified permanent makeup artist will have completed a rigorous training program and will be able to show you their certifications and references. Working with a certified permanent makeup artist is the best way to ensure that you are getting the highest quality permanent makeup application possible. Desired results do not come easy. There are no shortcuts to this delicate work and only those who learn from the best can be the best.
If are considering a career in the art of permanent makeup and micropigmentation, be sure to research your options and choose a top-level training facility like the Cosmetic Design Academy who will give you the results, training, and experience you will require to perform at the highest levels of this lucrative field. By working hard and practicing on live models in a facility that has pioneered its own techniques, you will be ready to bring on your own clients and build a business of your own or add revenue to an already existing business.
When the time comes to work on your own clients, it is important to have the skillset to know each client's unique skin type, color, tone, and needs. It is equally important to possess the confidence to get the job done right while taking pride in your work. Remember, when your client chooses the professional permanent makeup artist they trust, it will be someone who has the experience and training necessary to give them the beautiful, natural-looking results they expect and desire.
There are many schools and academy's dedicated to teaching their students the newest technics, skills, and latest healthcare/aftercare protocols. It is also very important to feel comfortable with the learning process and the trainer you will be gaining your knowledge and experience from. At the Cosmetic Design Academy, we mix real world business advise, client care and satisfaction training, and the most up to date processes in all areas of PMU.
We would love to speak with you about the exciting prospect of becoming a certified permanent makeup artist at the. Visit us online or call us at 561-338-3124. View our video and see what may be in store for your career in this quickly growing beauty industry sector everyone is talking about.