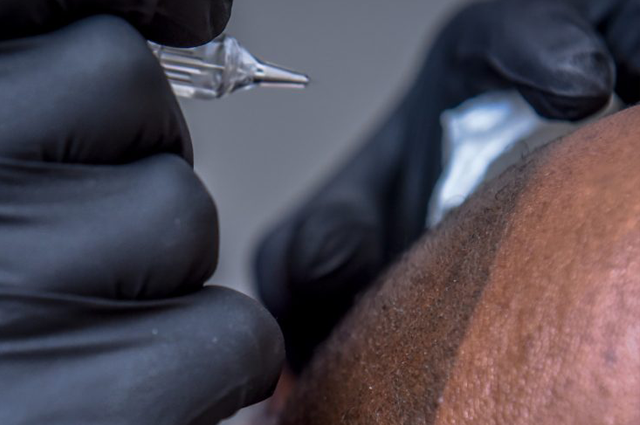 Comments are off for this post.
Hair transplants are a great way to regrow hair on the head where you have lost it or where it is thinning. While they help you regain your confidence, since it is a surgical procedure, there is a risk of scarring.
For those who've had a hair transplant but have experienced scarring or have other conditions such as alopecia or scars from a head injury, Scalp Micropigmentation (SMP) can help to cover the scarring and can also be used to help reshape the face and give them a hairline.
How Does Scalp Micropigmentation Work?
SMP is a technique where we strategically place tiny dots in the same direction and growth pattern as the client's natural hair growth. This allows us to keep the effect the same. We use a pigment that is matched to the client's hair color and implant the color under the skin using a digital, state-of-the-art handpiece.
SMP can be done for those with short or long hair and has no scarring or downtime. Since there are no hair follicles in the scar, the hair won't grow there. With SMP, we can simulate the appearance of hair, which can camouflage scars. Those with linear scars cannot have the scar removed, making SMP a great long-term solution.
Using our expert technique, we can create long-lasting results with minimal trauma to the skin. The scars are camouflaged by reducing the contrast between the scarred area and the skin with hair.
This technique creates a very natural appearance and offers an advanced breakthrough in permanent cosmetics.
Demand for Scalp Mircopigmentation Experts
In our experience, we've found that many places are seeking in-house technicians to perform SMP to fix hair transplant scarring. At the Cosmetic Design Academy, we are here to help train technicians to fill this fast-growing need.
We offer expert training in scalp micropigmentation. With our 4-day SMP course, you will become a certified cosmetic tattoo artist, learning mapping, movement, placement, technique, needle types, drawing, depth, symmetry, and more!
With this course, we can empower you to be your own boss and pave your own way to success! You can start making money right away, and within the first year, you have the potential to earn up to six figures. This course is an investment in your future and provides you the opportunity to join the fastest-growing solution for hair loss.
For more information on our SMP course, contact us today!