The Cosmetic Design Academy is a micropigmentation training academy and top tier service provider for all Permanent makeup procedures.
The Academy provides a thorough, engaging, and hands-on experience to its students. Taking the mentor approach, we help you build a business strategy and give you the confidence and tools to be successful in your career.
Clients wanting Permanent makeup will have their procedures performed by our Master PMU artist Sulema Trevino who will give you the beautiful and natural look you desire.
25 years ago, our founder, Sulema Trevino, started her career in permanent makeup. Today, Sulema is one of the most talented PMU artists and instructors in the world.
Sulema has traveled the world performing her art on a long list of happy clients as well as teaching large and small groups how to become certified in micropigmentation. Being certified by Sulema is more than a certificate, it means you were trained by the best and are now ready to perform the procedures on your own clients with confidence and accuracy.
In 2022 Sulema opened her newest studio, Cosmetic Design Academy, in Boca Raton Florida. This is her largest training and service facility to date.
Her skillful techniques, experience and eye for perfection make her a sought-after artist for all permanent makeup procedures and her newest training facility allows for a professional and relaxing educational facility for those interested in this rapidly growing beauty segment.
Our clients love the spacious, clean, and professional procedure rooms and our students enjoy the open studio space to learn and work together while classes are in session.
We look forward to seeing you.
Click Here to meet Sulema Trevino, the founder of Cosmetic Design Academy.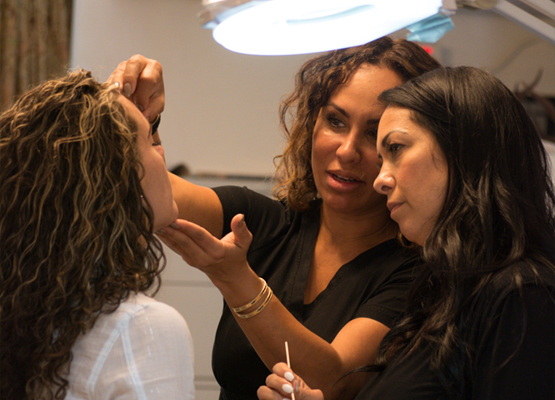 A master permanent make-up artist, Sulema Trevino has performed thousands of procedures incorporating highly innovative and expert face analysis to achieve beautiful results and a natural look. Sulema's clientele include well-known celebrities. She is a board certified instructor, licensed, and insured. Sulema is a diplomat of the American of Micro-Pigmentation and a member of the society of Professional Permanent Cosmetics. Has attended Hair Restoration Surgeons conference and is highly respected in her field.
Sulema Trevino became board certified in Micropigmentation in 1996 by the American Academy of Micropigmentation. She has perfected her skills in semi-permanent make-up also known as cosmetic tattoos, medical tattoos, scalp micropigmentation and corrections. She has a school in Boca Raton, Florida where she teaches others her craft. She has a celebrity clientele and has worked with numerous plastic surgeons, dermatologists and hair transplant surgeons in south Florida and New York City.